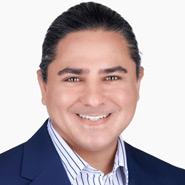 Cezar de Paula, CCH, BSB
National Guild of Hypnotists Certified Hypnotist
5-PATH® Certified Hypnotist
7th Path Self-Hypnosis® Teacher
Email: cezar@self-healinghypnosis.com
Call/text (415) 799-1762
Website: https://www.self-healinghypnosis.com/
Services offered in English, Portuguese, and Spanish.
Hi, I'm Cezar de Paula, and hypnosis has been in my life since early childhood. I had an impactful hypnosis experience during dental treatment as a child. I was five years old and frightened of the drill sounds in the dentist's office. Luckily, my dentist was just fresh from a hypnosis training class and offered to put me under for anxiety and anesthesia. So, I had my first auto-hypnosis quick training right there and learned that hypnotism could assist with anxiety, pain, and much more.
This experience planted a seed that became a lifelong fascination about hypnosis and the human mind. Since then, my passion has always been to learn more about self-empowerment and wellness.
Through years of service, working directly with people in financial and global human resources, I developed an unceasing desire to help people find balance and achieve their life goals. In my search for a path to support healthy, vibrant wellness, I re-discovered the extraordinary power of hypnotherapy for rapid, permanent change! I am a registered hypnotherapist in the state of Washington, where I am able to help people all around the globe via private online sessions. Now I finally feel like I have all the experience and tools to help you achieve your goals.
Videos: https://www.youtube.com/c/cezardh/featured
Podcast: https://anchor.fm/selfhealinghypnosis
Hypnosis Sessions at Self-Healing Hypnosis
REMOVE FEARS
STRESS & ANXIETY
NEGATIVE HABITS
RELATIONSHIPS
WEIGHT LOSS
PAIN RELIEF
HEALING FROM PAST EXPERIENCES
SPORTS PERFORMANCE
HEALTHY SLEEP
AND MUCH MORE…
I feel lucky to work helping people achieve their goals in such a positive way.
I had great transformational experiences with other hypnotists in the past.
My goal is to share the same care and kindness with you.
I offer daily free consults. I am available to respond to your questions and will be happy to hear from you soon.
---
Contact Cezar de Paula