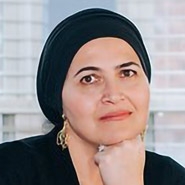 Online hypnosis sessions in Gainesville, Virginia
Houda Alkalla
Changing Minds, Changing lives™ LLC
www.houdaalkalla.com
National Guild of Hypnotists, Certified Consulting Hypnotist
5-PATH® Master Hypnotist
Advanced 5-PATH® Certification
Professional 5-PATH® Certification to conduct Online Hypnosis Sessions
7th Path Self-Hypnosis® Certified Teacher of the Ultimate 9th Degree
Rapid Transformational Therapist (RTT)
Rapid Transformational Coach (RTC)
Unlock Your Potential with Expert Transformational Hypnosis & Coaching!
Are you ready to transform your life? As an experienced hypnotist and transformation coach, I specialize in guiding clients toward holistic wellness and personal empowerment. With a deep understanding of how the mind works, I employ proven techniques to help you overcome any obstacles to achieving your goals.
My approach combines the power of hypnosis with personalized coaching, creating a dynamic synergy that leads to profound change. Together, we'll tap into your inner strengths, dissolve limiting beliefs and pave the way for lasting well-being.
Experience the positive powerful impact of my expert guidance. Book a session today and embark on your journey to a healthier, happier you!
---
Contact Houda Alkalla