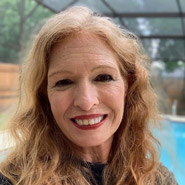 JC Jones
National Guild of Hypnotists Certified Hypnotist
5-PATH® IAHP Certified Hypnotist
7th Path Self-Hypnosis® Certified Teacher
"Living a Freer, Fuller, more Satisfying Life"
Does the success you desire seem to elude you, no matter what you've tried?
Do you find yourself repeating familiar patterns that aren't helping you anymore (and
even holding you back), stuck in old habits you can't seem to break free of?
You're in the right place!
Hi, I'm JC Jones, and I help people when everything else has failed.
Whether you're having trouble with relationships, business/career, sales, fears and apprehensions, motivation, weight loss, smoking cessation or more, I can help.
YOU are unique, with your own set of experiences, feelings, thoughts, desires, so I customize every session to the individual you.
Don't let YOU hold yourself back any longer!
Call me now for a free confidential consultation (321) 775-5797
YOU DESERVE IT!
"Real Change that Lasts"
Serving Greater Central Florida area and Worldwide
Ph: (321) 775-5797 USA
(407) 780-0799 USA
Email: JC@JCJonesHypnosis.com
Visit me on the web: www.jcjoneshypnosis.com
Children
Passing Tests
Business and Sales Success
Stop Smoking
Weight Loss
Relationship and Sexual Issues
Health Issues
Fears and Apprehensions
Worries and Sadness
Anger Resolution
Other Issues
Presentations on Hypnosis
Emotional Pain
Confidence and Self-Esteem
Name: Jennifer Jones
Location: Melbourne, Florida
Graduation date: Feb 5, 2022
Trainer: Cal Banyan
About me:
---
After years of working as a Certified Family Court Mediator, Licensed Massage Therapist, Personal Fitness Trainer, and Life Coach, Jennifer noticed a common thread in her clients' inability to move past blocks to their progress once they stopped seeing her. Her mission was to find a way to help her clients continue to succeed well beyond their time together, and experience profound lasting change for happier, healthier lives.
Jennifer now helps her clients unlock the full power of the potential that already exists inside them, by connecting to the deeper levels of their subconscious and unconscious
minds, and releasing the negative beliefs, thoughts, feelings, and energy that's been holding them back, so they can live freer, fuller, more satisfying lives.
---
Contact JC Jones