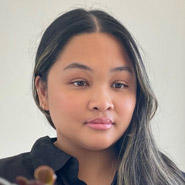 Katrina Ramos, Certified Hypnotist – Healing Hypnosis Online
National Guild of Hypnotists Certified Hypnotist
5-PATH® Certified Hypnotist
7th Path Self-Hypnosis® Teacher
Website: www.healinghypnosis.space
Email: katrina@healinghypnosis.space
Instagram: @healinghypno.space
About Katrina Ramos
---
I found hypnosis during my own healing journey after 30 years of self-sabotage. Hypnosis has personally helped me find peace, balance, and the confidence to leave behind a 10-year career in tech in order to pursue a truer passion: healing hypnosis work.
I received my Advanced 5-PATH® Hypnosis Certification at the Cascade Hypnosis Center through the NGH-approved Banyan Professional Hypnosis Training Program and completed my training with Erika Flint in July 2020. I've also worked with Cal Banyan as a 5-PATH® hypnosis client in September 2020 to further inform my work.
As a Filipino-American woman of color, I am particularly passionate about working with other women of color and people in BIPOC communities.
I live in Seattle, WA and offer virtual online hypnosis sessions and complimentary consultations. I love talking about hypnosis and I'm here to chat with anyone who is curious or has questions about hypnosis!
Hypnosis Services
---
For those who are ready to heal and become who you really are, hypnosis can help you:
Find your joy
Build self-esteem and confidence
Unblock and let go of limiting beliefs
Change unhealthy relationship patterns
Get rid of anxiousness and fear
Heal mother/father wounds
Finally lose weight
Quit smoking or vaping
Past Life Regression & Informing Soul sessions
And so much more
---
Contact Katrina Ramos