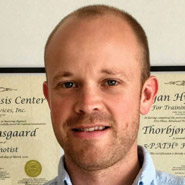 I'm passionate about helping people overcome their greatest personal challenges, finding renewed energy and personal insight along the way. Working as a therapist I focus on meeting the client where she or he is in their life with empathy and respect. As far back as I can remember, I have had a deep interest in people, psychology and the potential of the mind. I find hypnosis and hypnotherapy to be extremely powerful tools for helping people with their personal development.
I mostly help people with the following:
Anxiety of all kinds
Phobias
Stress
Low self-esteem and self confidence
Sleeping problems
Bad habits
Smoking cessation
Allergies
Weight loss
I'm looking forward to hearing from you, when you decide that it's time to change!
Name:
Thorbjorn Pasgaard
Location:
Copenhagen S, Denmark
Trained by:
Benny Vadmand in Copenhagen, Denmark
Education:
5-PATH® Hypnotherapist, 7-Path Self-Hypnosis® teacher, NLP Practitioner
Contact Information:
Thorbjørn Pasgaard
Email: kontakt@soulspark.nu
Website: https://www.soulspark.nu
Tel: 31 25 19 07
---
Contact Thorbjørn Pasgaard