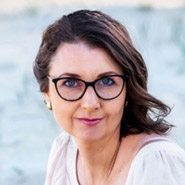 Annette Eilmann – Hypnosis Sessions in Australia, Gold Coast
Address: Gold Coast | QLD | AUSTRALIA
Phone: +61 401 189 643
Email: contact@realchangehypnotherapy.com.au
Website: www.realchangehypnotherapy.com.au
Trained By: Banyan Hypnosis Center
Graduated: March 2022
About Annette Eilmann
---
Annette is Certified 5-PATH® Master Hypnotist through the Banyan Hypnosis Center.
In addition, Annette holds certification as a Master Clinical Hypnotherapist, Master NLP Practitioner and Life and Success Coach through The Mind Academy, Australia.
She is a member of the 5-PATH® International Association of Hypnosis Professionals and International Institute for Complementary Therapists.
In her private practice Anette created a wonderful space where once you step through the door, you will feel at ease. In fact, her office isn't really an office, it's a space. for you to feel good, to sit down, feel only positive energy and let go of stress…
In addition to the knowledge and experience that she offers, she created an environment where you are able to open up and do the work, so you can move forward.
Through her work with many clients, where she utilizes the most advanced hypnosis, she has helped them rise out of dark places.
"Seeing my clients overcome their fears, leaving the past behind safely and moving forward without the luggage they were carrying, is a privilege for me. The work I do is very rewarding, and I love it."
QUALIFICATION:
5 PATH Certified Master Hypnotist
Diploma of Modern Psychology
Master Clinical Hypnotherapist
Master NLP Practitioner
Life & Success Coach
Diploma of Youth Work
Mental Health First Aid
Suicide Prevention Training
Therapeutic Crisis Intervention without Physical Interventions Training
ISSUES:
Anxiety & Stress
Fears & Phobias
Confidence & Self-worth
Undesired Habits
Loss & Grief
Healing from Past Experiences
Weight Loss
Stop smoking Addictions
---
---
Contact Annette Eilmann