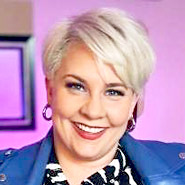 Kimberly Lorenz, BCHP
-Board Certified Hypnosis Professional
-Advanced 5-PATH® Certified Hypnotist
-7th Path of the Ultimate 9th Degree Self-Hypnosis® Certified Teacher
Founder of Lorenz Hypnosis; Board Certified Hypnosis Professional.
Married 22 yrs. to my best friend, I am the mother of 3 brilliant and amazing children.
I spent 20 years chronically ill and reached rock bottom. I flew around the country looking to doctors for answers, I took all the blood tests. Nothing helped. I tried hordes of nutritional products, I have tried reiki, energy healing, and acupuncture. Nothing helped until I learned self-hypnosis.
My life is my own now. I am in LOVE with hypnosis and how quickly and powerfully it can transform a person and give them back the control they have lost. It heals deep internal wounds and sets us free from the past.
My goals are to help clients identify their subconscious blocks holding them back and quickly reprogram and transform their lives through the healing power of hypnosis. I also teach and certify aspiring compassionate and motivated humans to become excellent hypnotists with thriving businesses.
I have been published in the International Association of Hypnosis Professionals Journal, and a guest on many podcasts including; ODAAT Chat with Arlina Allen and Cal Banyan's Free Hypnosis Training Videos.
Kimberly Lorenz, BCHP
CALL: 877-606-3210 or 208-606-3335
EMAIL: Kim@LorenzHypnosis.com
WEBSITE: LorenzHypnosis.com
SCHEDULE A MEETING: https://lorenzhypnosis.com/consult
Fun Factoid: Mystery Science Theater 3000 is my favorite kind of movie, I love laughing at bad movies.
---
Contact Kimberly Lorenz